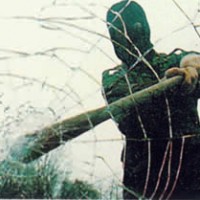 The majority of smash and grab type crimes happen through either glass doors or windows of homes, offices, and retail stores. Within a matter of minutes valuable possessions are gone. There are ways to help protect windows and doors to prevent these unwanted entries. One such alternative also affords additional benefits by improving window energy efficiency.
There are many common sense tips for securing your home against intruders and most of them are easy fixes or simple maintenance. Implementing some of these ideas can also mean rate cuts to your homeowners' insurance policy.

Exterior doors should be solid-core doors with heavy-duty dead bolts installed in a sturdy frame. Hinges should be secured with long screws so they can't be kicked in.
Locking storm doors are useful for letting fresh air in without leaving an entrance exposed to theft.
Security bars over basement windows and around removable AC units prevent intruders from crawling inside.
Broken windows are a red flag to intruders and should be repaired.An alarm system is advisable in certain instances.
Exterior lighting, to include motion detection lights, helps to shine the light of day on those who desire to operate in darkness.
Keep your garage door closed and don't leave the opener in your unlocked car.

One often overlooked home safety and security solution is installation of security window film designed to make glass shatterproof. The film also provides privacy as well as theft deterrence. If a homeowner can't afford to replace glass doors with double paned heavy duty glass, security film can be a viable alternative.

Certain brands of Security Window Film have an adhesive that holds the glass together even when shattered. Available in several different thicknesses and strengths to prevent tearing, Security Film can prevent burglaries because the film makes it harder to gain entry into a protected home.
Burglars find that windows with security film take longer to enter and results in additional, unwanted noise. Impact-resistant films will hold glass together if broken. Smash and grab burglars rely on a technique that results in quick, quiet entry into a home. If an intruder or vandal hits a window hard enough, or if the window is struck by a stray baseball, security filmed glass will shatter but stay together. The shattered glass with the shards of glass held in place by film is an additional obstacle. Window security films are hard to detect from the outside but still allow easy egress from the interior, which is an important safety feature in event of fire.

Window film has the added benefit of reflecting and absorbing heat, helping create comfortable temperature for homes while reducing energy costs. There are also security film options available for vehicle windows, adding another layer of protection in public parking areas. Installation should be done by professionals as experience counts when it comes to the type of film to be used and the application method.

The old saying "where there's a will, there's a way," is true when it comes to truly preventing residential and commercial burglaries but the idea is to make it difficult for burglars. They will move on to easier targets in most cases where even minimal effort has been made to secure a property.
Vinyl static cling window film has a great many advantages over ordinary window film. One of the main benefits of static cling film is that it can be used many more than a few times over, since it does not involve adhesives. It can be removed with ease, doesn't leave behind any residue, and can be placed on plastic, Plexiglas, ordinary glass, and metal.
Despite the pros, however, there are a couple of cons to static cling window tint as well. Compared to traditional DIY window tint, the static cling film is much less transparent. For this reason, if you are looking to keep a clear view of the outside, you will be better off staying away from static cling window film.
Another undesirable characteristic of static cling film is that, due to its static properties, it is more difficult to clean as the static charges draw dust particles out of the air and onto the film – and sometimes needs quite a vigorous scrub to fully clean. Ordinary window film, on the other hand, requires nothing more than a squeegee or cloth soaked in soapy water.
When looking at the different types of film available for your home, it is recommended that you first be very clear about what your specific requirements are. Not all window films are alike, and many have their own unique traits and performance characteristics. You can even find specialized frost films, designed for windows where total privacy is necessary (bathroom windows, shower doors, etc.)
Window tint also has many practical purposes besides privacy, such as reducing or eliminating unbearably bright sunlight and glare. One of the best reasons to install window film is its ability to effectively block up to 99% of harmful ultraviolet rays from the sun. Not only does this protect you and your family from skin damage and increased chances of skin cancer, it also helps to preserve the lifespan of electronics and other digital items in your home or office. Solar window films are also able to keep out the cold in winter, by virtue of their excellent insulating properties
The high-quality spray includes the bottle TM-168 and nozzle TM-082,great pressure and very durable.The high-quality nozzle
guarantees good atomization and big output per stroke.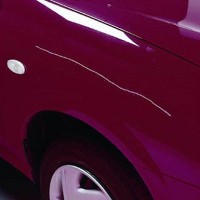 Have you ever wished that you could keep your car looking as pristine as the day it was purchased? Driving a new car away from the dealer's lot begins the erosion process of pitting and chipping of the new paint. Many car dealers and shops are now offering an innovative way to protect your investment with a product that keeps vehicles looking "car lot new.

"Paint protection film," or a clear bra, keeps exposed surfaces of a vehicle protected from gravel road detours, road construction and parking lot mishaps. Automobiles and recreational vehicles are second only to home ownership as the average Americans largest investment and paint protection film helps protect that investment.

Paint protection film kits were developed in the past decade originally to protect the rotor blades of Armed Forces helicopters from damage due to sand particles in operation Desert Storm. Companies like 3M and Avery Dennison have continued to refine the product and kits are available now that are custom cut to fit a wide range of vehicles including automobiles, motorcycles ,trucks, big rigs, and recreational vehicles.

Automotive paint protection film has the advantage of eliminating some of the more common problems associated with traditional products like leather hood bras that can trap dirt that rubs off paint. The film also protects against UV damage and degradation when professionally installed.

Installation is similar to window tinting or even wallpapering, where experience and expertise are required for the best possible outcome. Automotive film is available in either a standard or deluxe kit. The deluxe kit adds film pieces to protect bumpers, spoilers, mirrors and painted grills. There are additional options from some manufacturers. The film is not designed to protect chrome. Installation can take as little as twenty minutes for a car, or in the case of an RV, up to five hours. As with most detailing, a quality outcome requires quality application.

Automotive paint protection film forms an invisible auto bra that can be waxed and maintained just like a painted finish to maintain the original high gloss shine of automobiles. Quality auto clear bra paint protection film is designed to be removed without damaging painted surfaces. The film is non-yellowing and abrasion resistant and is flexible enough to be applied to watercraft, aircraft, consumer electronics and almost any smooth surface which may be vulnerable to abrasion.
Not only do security window films help keep burglars out, they also help to reinforce and strengthen your windows. Our security
window films are made of the highest quality material to help keep damages from storms to a minimum. We use our decades of
experience to offer you the best services and products to fit your needs and your budget. Your satisfaction is very important to us and
we will do everything in our power to ensure you receive superior results for window film, blinds, or security film.
ページトップ